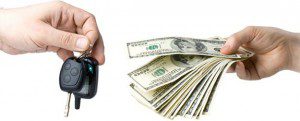 Do you have automotive keyless entry remotes to sell? Perhaps you are a business, car dealer or locksmith with unsold inventory? Or even an individual who no longer has the car but just found the key fob? We can turn it into a cash payment.
We will buy new and used automotive keyless entry remotes for all makes and models.
Note: Make sure that you have at least 20 remotes or your offer will be declined!
Be sure to tell us what you have – new or used, quantity, and either the make, model and year of the vehicle or preferably the FCC ID # found on the back.
Please take a picture of all the remotes you would like to sell and then upload on our form below. You can lay them down then just take a picture, and we will get back to you with a cash quote. We know them all, so take a good picture of them.
Example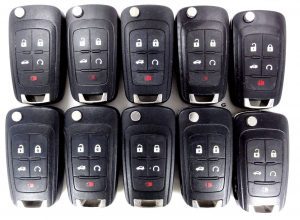 Typical Price for Used and New Remotes
Note: ALL prices are in USD(United States Dollars). These prices are subject to change without notice
Remote Buttons Legend: L=Lock, U=Unlock, T=Truck, G=Gate or Glass, S=Slider, H=Hatch, RS=Remote Start, O=Option, P=Panic.
REMOTES
| Make | We Buy Remotes | FFC ID# | Buttons | Price(Used) | Price(New in bag) |
| --- | --- | --- | --- | --- | --- |
| ACURA | 55444-3 | E4EG8D-444H-A | LUP | 7,00 | 15,00 |
| ACURA | 55444-4 | E4EG8D-444H-A | LUTP | 7,00 | 15,00 |
| ACURA | 55297 | KOBUTAH2T | LUTP | 8,00 | 15,00 |
| ACURA | 55387 | OUCG8D-387H-A | LUTP | 8,00 | 15,00 |
| CHRY | 9008 | GQ43VT9T | LUTP | 1,00 | 6,00 |
| CHRY | 9260 | GQ43VT17T | LUTP | 1,00 | 8,00 |
| CHRY | 9481 | GQ43VT17T | LUP | 1,00 | 10,00 |
| CHRY | 9641 | GQ43VT13T | LUP | 1,00 | 10,00 |
| FORD | 1601 | CWTWB1U322 | LUP | 2,00 | 5,00 |
| FORD | 1602 | CWTWB1U322 | LUTP | 2,00 | 5,00 |
| FORD | 1602GG | CWTWB1U511 | LUGGP | 3,00 | 12,00 |
| FORD | 1602SS | CWTWB1U511 | LUSSP | 3,00 | 12,00 |
| FORD | 1603 | Gray in Color | LUTP | 5,00 | 15,00 |
| FORD | 1602SSH | CWTWB1U511 | LUSSPH | 5,00 | 12,00 |
| FORD | 1604 | GQ43VT4T | ALL | 0,25 | 5,00 |
| GM | 3008 | MYT3X6898B | LUP | 1,00 | 8,00 |
| GM | 3021 | LHJ011 | LUP | 6,00 | 12,00 |
| GM | 30292XP | ABO1502T | ALL | 5,00 | 12,00 |
| GM | 3803 | KOBUT1BT | ALL | 8,00 | 15,00 |
| GM | 3968 | KOBLEAR1XT | ALL | 6,00 | 12,00 |
| GM | GM/L:22733523 | KOBGT04A | LUTP | 5,00 | 12,00 |
| GM | GM/L 15252034 | KOBGT04A | LUTP | 5,00 | 12,00 |
| GM | GM/L 15114374 | KOBGT04A | (RS)LUP | 5,00 | 12,00 |
| GM | GM/L 22733524 | KOBGT04A | (RS)LUTP | 5,00 | 12,00 |
| GM | GM/L 15777636 | KOBGT04A | LUP | 5,00 | 12,00 |
| GM | 3420 | OUC60270 | ALL | 5,00 | 10,00 |
| GM | 3421 | OUC60221 | ALL | 5,00 | 10,00 |
| GM | 3499 | L2C0005T | LUTP | 1,00 | 8,00 |
| GM | 3575 | L2C0007T | ALL | 2,00 | 5,00 |
| SUBARU | 4711T | NHVWB1U711 | LUTP | 3,00 | 10,00 |
| SUBARU | 4111 | A269ZUA111 | LU | 5,00 | 15,00 |
| HONDA | 4512 | HYQ1512R | LUP | 8,00 | 15,00 |
| HONDA | 5101 | A269ZUA101 | LUOP | 8,00 | 15,00 |
| HONDA | 5106 | A269ZUA106 | LUP | 7,00 | 15,00 |
| HONDA | 5297 | KOBUTAH2T | LUTP | 8,00 | 15,00 |
| HONDA | 5344 | OUCG8D-344H-A | LUP | 8,00 | 15,00 |
| HONDA | 5344-4 | OUCG8D-344H-A | LUTP | 8,00 | 15,00 |
| HONDA | 5399-5 | OUCG8D-399H-A | LUSSP | 8,00 | 15,00 |
| HONDA | 5399-6 | OUCG8D-399H-A | LUSSHP | 8,00 | 15,00 |
| HONDA | 5440 | OUCG8D-440H-A | LUSSP | 8,00 | 15,00 |
| HONDA | 5451 | E4EG8DJ | LUP | 7,00 | 15,00 |
| HONDA | 5452 | E4EG8DJ | LUTP | 8,00 | 15,00 |
| HONDA | 5521 | NHVWB1U521 | LUP | 7,00 | 15,00 |
| HONDA | 5523 | NHVWB1U523 | LUP | 8,00 | 15,00 |
| ISUZU | 4512 | HYQ1512R | LUP | 8,00 | 15,00 |
| HYUNDAI | ALL | ALL | ALL | 1,00 | 3,00 |
| KIA | ALL | ALL | ALL | 1,00 | 3,00 |
| MAZDA | 2794 | KPU41794 | LUP | 4,00 | 10,00 |
| MAZDA | 2805 | KPU41805 | LUTP | 5,00 | 15,00 |
| MAZDA | 2846 | KPU41846 | LUP | 5,00 | 10,00 |
| MITSU | 6210 | HYQ12ABA | LU | 4,00 | 10,00 |
| MITSU | 6525 | OUCG8D-525M-A | ALL | 6,00 | 12,00 |
| NISSAN | 7208 | KBRASTU15 | LUP | 3,00 | 8,00 |
| NISSAN | 7209 | KBRASTU15 | LUTP | 3,00 | 8,00 |
| NISSAN | 7268 | CWTWB1U733 | LUP | 2,00 | 10,00 |
| NISSAN | 7268 | CWTWB1U733,821 | LUTP | 2,00 | 10,00 |
| NISSAN | 7429 | CWTWB1U429 | LUTP | 0,50 | 3,00 |
| NISSAN | 7684 | NHVBU427 | LUTP | 5,00 | 12,00 |
| NISSAN | 7754T | KOBUTA3T | LUT | 3,00 | 15,00 |
| TOYOTA | 8065 | GQ43VT14T | LUP | 2,00 | 10,00 |
| TOYOTA | 8065T | GQ43VT14T | LUTP | 2,00 | 10,00 |
| TOYOTA | 8066BBX | HYQ12BBX | LUWP | 7,00 | 15,00 |
| TOYOTA | 8065H | GQ43VT14T | LUH | 1,00 | 7,00 |
| TOYOTA | 8095T | GQ43VT20T | LUTP | 10,00 | 18,00 |
| TOYOTA | 8095 | GQ43VT20T | LUP | 10,00 | 18,00 |
| TOYOTA | 8095S | GQ43VT20T | LUSP | 10,00 | 18,00 |
| Make | We Buy Remotes | FFC ID# | Buttons | Price(Used) | Price(New in bag) |
REMOTE KEY COMBO
| Make | We Buy Remotes | FFC ID# | Buttons | Price(Used) | Price(New in bag) |
| --- | --- | --- | --- | --- | --- |
| CHRY | DODGE/JEEP | ALL | ALL | 3,00 | Email |
| FORD | 1002 | OUCD600002 | ALL | 3,00 | 6 |
| FORD | 1022 | OUCD6000022 | ALL | 3,00 | 6 |
| FORD | 1722 | CWTWB1U722 | ALL | 5,00 | 10 |
| FORD | 1793 | CWTWB1U793 | ALL | 8,00 | 10 |
| HONDA | 5308 | KR55WK49308 | ALL | 0,25 | Email |
| HONDA | 5084-3 | N5F S0084A | LUP | 4,00 | Email |
| HONDA | 5084 | N5F S0084A | LUTP | 0,50 | Email |
| HONDA | 5380 | OUCG8D-380H-A | ALL | 2,00 | Email |
| HONDA | 5545 | CWTWB1U545 | ALL | 4,00 | Email |
| HONDA | 5500 | MLBHLIK-1T | ALL | 4,00 | Email |
| HONDA | 5505 | N5F-A05TAA | ALL | 4,00 | Email |
| HONDA | 5504 | N5F-A04TAA | ALL | 4,00 | Email |
| TOYOTA | 8029 | GQ4-29T | LUTP | 10,00 | Email |
| TOYOTA | 8041 | MOZB41TG | LUP | 12,00 | Email |
| TOYOTA | 8052 | GQ4-52T | LUP | 20,00 | Email |
| TOYOTA | 8012-3 | HYQ12BDM | LUP | 7,00 | Email |
| TOYOTA | 8012-4 | HYQ12BDM | LUTP | 12,00 | Email |
| TOYOTA | 8112-3 | HYQ12BBY | LUP | 4,00 | Email |
| TOYOTA | 8112-4 | HYQ12BBY | LUTP | 4,00 | Email |
| Make | We Buy Remotes | FFC ID# | Buttons | Price(Used) | Price(New in bag) |
OEM FLIP KEYS
| Make | We Buy remotes | FFC ID# | Buttons | Price(Used) | Price(New in bag) |
| --- | --- | --- | --- | --- | --- |
| MAZDA | 19/08/1907 | KPU41788 | LUP | 11,00 | Email |
| MAZDA | 19/08/1907 | KPU41788 | LUTP | 11,00 | Email |
| MAZDA | 05/11/1906 | BGBX1T478SKE12501SKE | LUP | 15,00 | Email |
| MAZDA | 05/11/1906 | BGBX1T478SKE12501SKE | LUTP | 15,00 | Email |
| Make | We Buy remotes | FFC ID# | Buttons | Price(Used) | Price(New in bag) |
SMART KEYS
| Make | We Buy Remotes | FFC ID# | Buttons | Price(Used) | Price(New in bag) |
| --- | --- | --- | --- | --- | --- |
| INFINITI | 77618 | CWTWBU618 | LUTP | 11,00 | Email |
| INFINITI | 77619 | CWTWBU619 | LUP | 18,00 | Email |
| INFINITI | 77001 | KBRTN001 | LUTP | 15,00 | Email |
| INFINITI | 77903 | KR55WK48903 | LUTP | 14,00 | Email |
| INFINITI | 77013 | KBRASTU13 | LUTP | 25,00 | Email |
| INFINITI | 77624 | CWTWBU624 | LUHP | 15,00 | Email |
| INFINITI | 77622-3 | KR55WK49622 | LUP | 15,00 | Email |
| INFINITI | 77622-4 | KR55WK49622 | LUHP | 15,00 | Email |
| INFINITI | 77787-T | CWTWB1U787 | LUTP | 20,00 | Email |
| INFINITI | 77787-H | CWTWB1U787 | LUHP | 25,00 | Email |
| INFINITI | 77735 | lCWTWBU735 | LUTP | 18,00 | Email |
| INFINITI | 77014 | KR5S180144014 | ALL | 11,00 | Email |
| INFINITI | 77744 | CWTWB1G744 | RSLUHP | 8,00 | Email |
| NISSAN | 7001 | KBRTN001 | LUP | 15,00 | Email |
| NISSAN | 7729 | CWTWBU729 | LUP | 12,00 | Email |
| NISSAN | 7735 | CWTWBU735 | LUTP | 15,00 | Email |
| NISSAN | 7624 | CWTWBU624 | LUTP | 8,00 | Email |
| NISSAN | 7903-3 | KR55WK48903 | LUP | 8,00 | Email |
| NISSAN | 7903-4 | KR55WK48903 | LUTP | 14,00 | Email |
| NISSAN | 7622-3 | KR55WK49622 | LUP | 9,00 | Email |
| NISSAN | 7622-4 | KR55WK49622 | LUTP | 5,00 | Email |
| NISSAN | 7773 | CWTWB1U773 | LUP | 12,00 | Email |
| NISSAN | 7808 | CWTWB1U808 | LUP | 15,00 | Email |
| NISSAN | 7818 | CWTWB1U818 | LUSSP | 15,00 | Email |
| NISSAN | 7789 | CWTWB1U789 | LUSSHP | 15,00 | Email |
| NISSAN | 7014 | KR5S180144014 | ALL | 6,00 | Email |
| NISSAN | 7840-E | CWTWB1U840 | LUEP | 10,00 | Email |
| NISSAN | 7840-T | CWTWB1U840 | LUTP | 18,00 | Email |
| NISSAN | 7618 | CWTWBU618 | LUHP | 5,00 | Email |
| NISSAN | 7106 | KR5S180144106 | LUHP | 9,00 | Email |
| TOYOTA | 8031-SILVER | MOZB31EG | LUP | 15,00 | Email |
| TOYOTA | 8021-BLACK | MOZB21TG | LUP | 15,00 | Email |
| TOYOTA | 8014 | HYQ14AAB | ALL | 28,00 | Email |
| TOYOTA | 8114 | HYQ14AAF | LUTP | 15,00 | Email |
| TOYOTA | 8214-3BLACK | HYQ14ACX | LUP | 22,00 | Email |
| TOYOTA | 8214-4HSILVER | HYQ14ACX | LUHP | 25,00 | Email |
| TOYOTA | 8214-4HBLACK | HYQ14ACX | LUHP | 12,00 | Email |
| TOYOTA | 8214-4TBLACK | HYQ14ACX | LUTP | 12,00 | Email |
| TOYOTA | 8214-3SILVER | HYQ14ACX | LUP | 20,00 | Email |
| TOYOTA | 8314-3BLACK | HYQ14AEM | LUP | 25,00 | Email |
| TOYOTA | 8314-4BLACK | HYQ14AEM | LUTP | 20,00 | Email |
| TOYOTA | 8314-3SILVER | HYQ14AEM | LUP | 9,00 | Email |
| Make | We Buy Remotes | FFC ID# | Buttons | Price(Used) | Price(New in bag) |